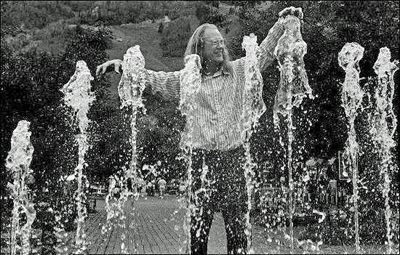 Mission

The Nick DeWolf Foundation is a nonprofit organization based in Aspen, Colorado. Its core tenet is to provide support to groups and organizations interested in improving the quality of life and education in the world.
About Nick DeWolf

Born in Philadelphia, Pennsylvania in 1928, and a graduate of the Massachusetts Institute of Technology (1948), Nicholas "Nick" DeWolf was co-founder of Teradyne , a Boston, Massachusetts-based manufacturer of automatic test equipment. DeWolf founded the company in 1960 with Alex d'Arbeloff, a classmate at MIT.
During his eleven years as CEO of Teradyne, DeWolf is credited with designing more than 300 testing systems, including the J259, the world's first computer-operated integrated circuit tester.

After retiring from Teradyne in 1971, DeWolf moved to Aspen, Colorado. There he established Aspen's first Computer Society and many other enrichments to the community. In 1979, DeWolf teamed with local artist Travis Fulton to create Aspen's "dancing fountain". He would also design a computer system without hard disks or fans; this system (the ON! computer ) booted up in seconds (a much faster time than even the computers of today!)
In 2001, DeWolf was awarded the Telluride Tech Festival Award of Technology. In 2005, the Aspen Center for Physics thanked Nick and Maggie DeWolf for their continuing support by naming an annual lecture series in their honor.

The DeWolfs were inducted into the Aspen Hall of Fame in 2005.
Projects supported by the Nick DeWolf Foundation include:
GrassRoots Community Network
http://grassrootstv.org/
Cable Television Channel 12 Aspen to El Jebel
82 Carbondale & Glenwood
Free Pitkin County Broadcast
WE-CYCLE / Aspen Bike Share
https://www.we-cycle.org/
"ride the movement"
The Nick DeWolf Photo Archive
https://www.flickr.com/photos/dboo/
Webmaster: webmaster@nickdwfoundation.org info: info@nickdwfoundation.org